TDP call for 'Chalo Atmakur' evokes good response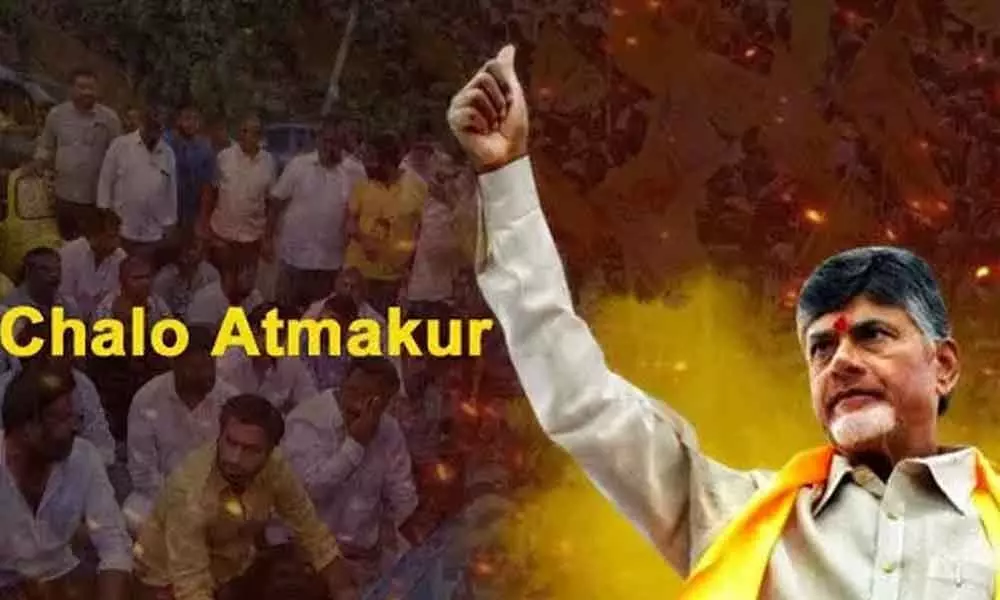 Highlights
Displaced families return to Atmakur village
Atmakur (Guntur district) :Telugu Desam party supporters and functionaries, who left Atmakuru village of Durgi Mandal in Guntur district due to the attacks made by the YSRCP functionaries for the past three months, are now returning to the village on Wednesday as the police have assured them giving full protection and maintain law and order in the village. The police responded to the call given by the former Chief Minister N Chandrababu Naidu for the 'Chalo Atmakuru' to instil confidence among the TDP workers and supporters in the village and Palnadu area of Guntur district and been asking the victims to return to their homes.
Atmakur village with a population of over 2600 is in the news for the last few days with the call given by N Chandrababu Naidu that he would visit the village on September 11 to meet the TDP activists, who are panicked with the recent attacks of the YSRCP cadre in the village.
The police are trying to foil the 'Chalo Atmakuru' call given by the TDP. The police arrested dozens of TDP leaders in Krishna and Guntur districts and house arrested since last night. Even Chandrababu Naidu was not allowed to come out of his home in Undavalli since morning.
On the other hand, 14 families, the TDP functionaries and supporters returned to the camp set up in Atmakuru village on Tuesday and Wednesday. The displaced TDP workers heaved a sigh of relief and thanked Chandrababu Naidu for giving a call for 'Chalo Atmakur' on Wednesday.
The TDP call has instilled the confidence in the TDP cadre in Palnadu area of Guntur district and the police are also taking measures for the security of TDP workers and supporters.
After the YSRCP government came into power, attacks on the TDP supporters and functionaries increased in the Palnadu area. Consequently, nearly 60 families from Atmakuru village left to other villages in Macherla, Veldurti, Gurajala and other mandals and been staying there. About 14 families returned to Atmakuru village and may return to their homes. Atmakur village is notorious for faction type of politics and violence. When the TDP came into power in 2014, the TDP supporters had attacked the YSRCP supporters and functionaries. Now, the YSRCP workers are resorting to revenge and attacked about 60 families. Now, the TDP has given a call to restore normalcy and maintain peace in the village. The TDP leadership also met Guntur rural police officials and sought co-operation to restore normalcy. But, their efforts not yielded results several weeks. Finally, Chandrababu Naidu has given a call for 'Chalo Atmakur', which is giving fruitful results.
The TDP leaders including party national president N Chandrababu Naidu, other leaders former MLAs, MLCs, former ministers are under the house arrest since Tuesday night. The police kept barricades on the roads in the main junctions in Guntur city, Mangalagiri, Tadepalli and other places and keeping strict vigil to foil 'Chalo Atmakuru' call given by the TDP leadership.
Subscribed Failed...
Subscribed Successfully...