Telugu States leading in rooftop solar power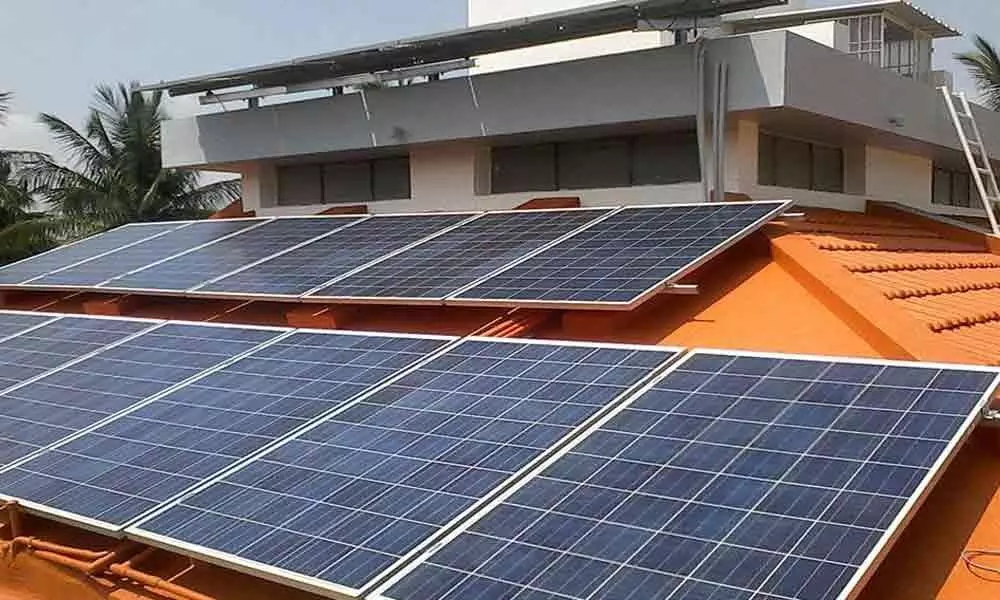 Highlights
The solar rooftop installation sector in Telugu States is defying the economic slowdown blues for now, says SARAL (State rooftop solar attractiveness...
Hyderabad: The solar rooftop installation sector in Telugu States is defying the economic slowdown blues for now, says SARAL (State rooftop solar attractiveness Index) and industry experts.
According to SARAL that evaluates Indian states based on their attractiveness for rooftop development, Telangana and Andhra Pradesh (AP) have got the 2nd and 4th rank respectively with a grade of A++, further proving the potential in these regions. Karnataka has been ranked first with Gujarat being the 3rd.
"After witnessing a slowdown in 2017-18, rooftop solar activity has picked up in both the states and the industry continues to be buoyant recording a high annual growth of about 66 per cent," says Saurabh Marda - Co-founder & Managing Director, Freyr Energy Services Pvt Ltd.
Says Rahul Dasari, CEO, Sunshot Technologies, "Telangana is focusing on a distributed development model rather than accelerating solar installations through the solar park approach. The state's decentralized solar power policy has helped in attracting solar developers and reducing transmission losses.
The state is planning to generate 5,000 MW solar power by 2019. Telangana has set a target to install 2,000 MW of rooftop solar by 2022. Favorable state policies and initiatives like reducing red tape in government departments through fast approvals and refund of GST, stamp duties along with net-metering policy, mandatory installation of solar panels in areas above 2700 sft, subsidy on the installation process, etc.
are encouraging the adoption of solar across the commercial and residential sector".
Also, in the current scenario where states like Tamil Nadu and UP have stringent net-metering policies and Maharashtra introducing gross-metering policies; Telangana on the contrary, offers a highly encouraging policy towards rooftop solar, he added.
As regards Andhra Pradesh (AP) which plans to achieve at least 5000 MW of total solar power capacity addition over the next four to five years, Rahul said, "AP's solar policy aggressively supports development of solar parks as well as distributed generation together.
The state government is promoting solar installations on the rooftops of public buildings, commercial and industrial establishments. The state's solar policy also provides incentives in the form of exemption of transmission and distribution charges and losses, cross subsidy surcharge, electricity duty for captive consumption etc."
"According to India Brand Equity Foundation (IBEF), as of January 2019, AP had 19 operational SEZs across diversified sectors which include textiles and apparel, food processing, footwear and leather products, multi-product, pharma & IT SEZs. All these sectors offer great potential to adopt on-site solar power," he added.
Echoing similar views, Tarun Singh, founding Director of Gosolgen Renewables, said: "Both the States have a very large untapped market that can benefit from solar rooftop adoption.
The industry must educate people and provide easy credit during this slowdown period," and added, "Solar is now an economically viable solution which provides 25 to 28 per cent return per annum on the initial investment. At this level government should just create a strong framework for the players to operate in and not create confusion through their subsidy programmes."
Subscribed Failed...
Subscribed Successfully...