Rajasthani apparel rocks fashion gala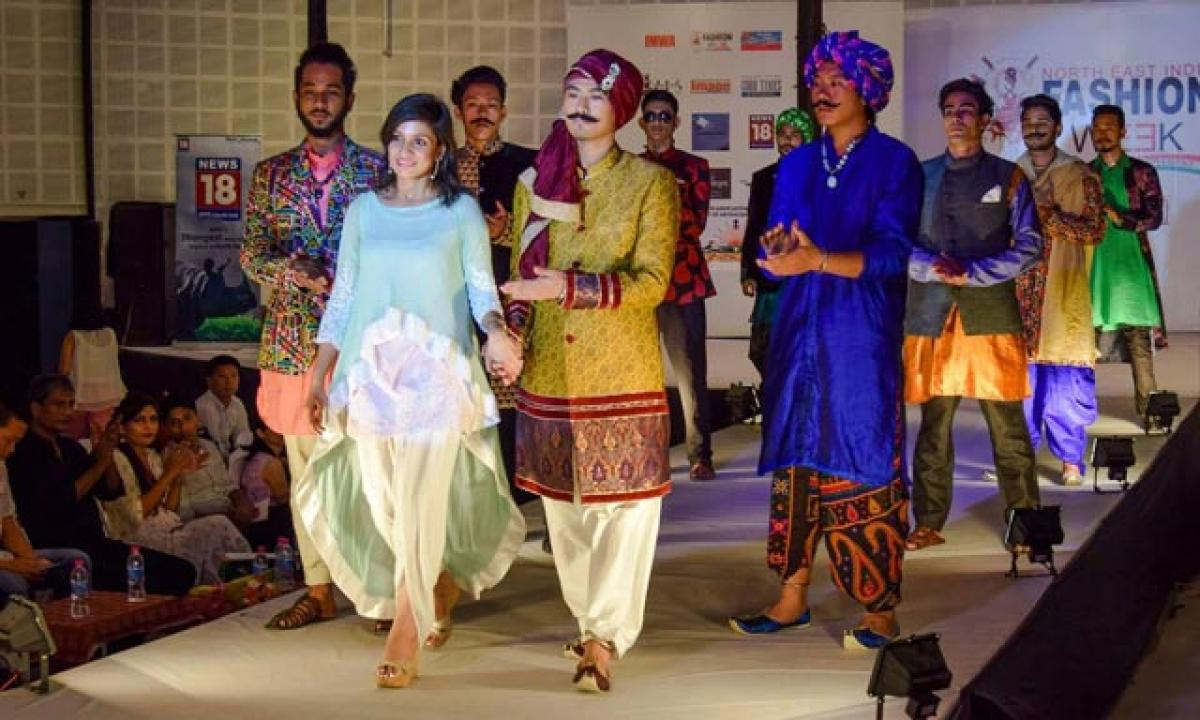 Highlights
Fashionistas in the Arunachal Pradesh capital got a taste of Rajasthani fashion at the second edition of the North East India Fashion Week (NEIFW). Rajasthani designer Archana Kabra, born and brought up in Assam, showcased a menswear collection that was completely different from the ones presented on the ramp of NEIFW, which gives weavers and designers from the northeast region a platform to showc
North East India Fashion Week
Fashionistas in the Arunachal Pradesh capital got a taste of Rajasthani fashion at the second edition of the North East India Fashion Week (NEIFW). Rajasthani designer Archana Kabra, born and brought up in Assam, showcased a menswear collection that was completely different from the ones presented on the ramp of NEIFW, which gives weavers and designers from the northeast region a platform to showcase their work.
Sporting a moustache and turbans in colours like pink and green, the northeast male models hit the runway in Rajasthani tie and dye bandhgala jackets, sherwanis, kurtas with dhotis and much more. "It was a wonderful experience to show my work at the fashion week where most of the collections are inspired by the fashion of the tribes of the northeast," Kabra told.
Bold and beautiful
If she gave a twist to the fashion week by showcasing Rajasthani apparels, Mizoram's designer Lalthabiki Chawnglum upped the bold quotient of the gala through her collection. Models baring their toned abs or shoulders or legs walked on the runway with confidence in off-shoulder dresses, sleeveless tops with shorts and skirts in colours like blue, purple, black and white.
"I mostly used loin loom and net. There was a floral printed jacket too. I like the western style, that's why my collection had dresses of different lengths, skirts and tops," Chawnglum told. The three-day fashion gala is also promoting the work of the weavers from northeast India. But she doesn't see it as a competition between weavers and designers. "I am simply happy to share the platform with weavers and other designers," she said.
Skirts and coins
Nagaland-based designer Ongtiong Kichu's collection had many dresses, some with a high slit at the back, crop tops, fitted skirts and more in red, blue, yellow and purple. Minu Mara, from Arunachal Pradesh, literally raised the temperature of the venue Multipurpose cultural centre where air conditioners are yet to be installed by presenting her hand-knit creations that were flaunted by male and female models.
Right from polo neck sweaters with jeans, V-neck sleeveless sweaters and hand-knit dresses, the collection looked perfect for the winter season. Arunachal Pradesh's designer Nana Gona's show also had something interesting to offer. Apart from the wearable skirts and dresses for women, the accessories long ear pieces and belts made of coins for men caught attention of many.

Subscribed Failed...
Subscribed Successfully...