Big B launches world's first mobile app on ABC of breast health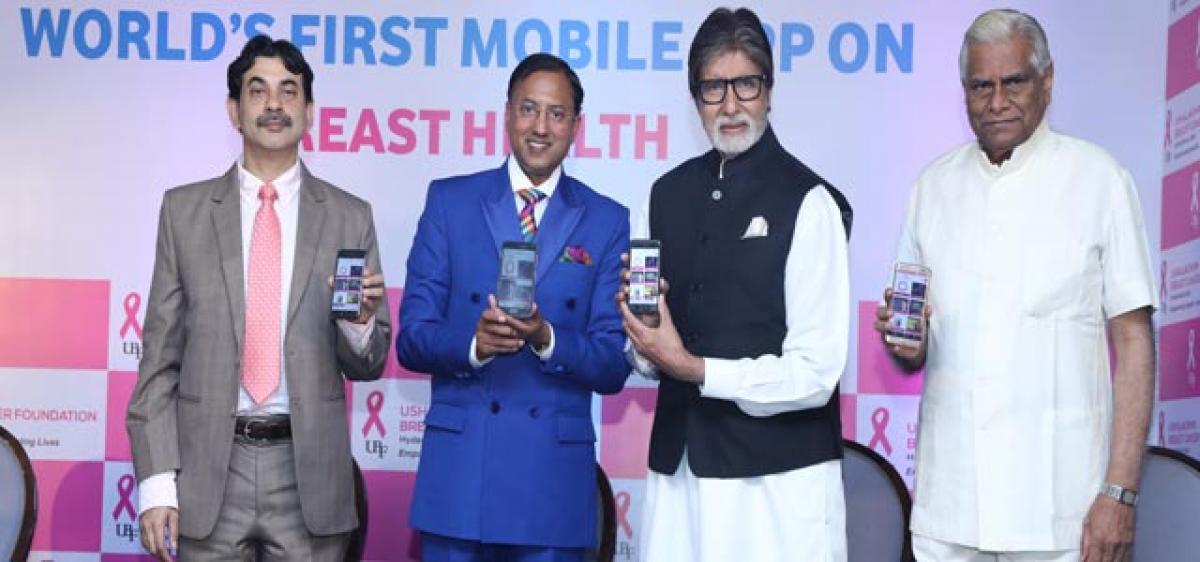 Highlights
Amitabh Bachchan, launched the World's first mobile App on 'ABC of Breast Health' at an event organised by Ushalakshmi Breast Cancer foundation at JW Marriott Hotel at Juhu. Both iOs & Android versions of the App which are available in Apple & Google Play Store for FREE download, aims to empower the nation about every aspect of Breast cancer & Benign non cancer Breast health issues in 12 Languages
Amitabh Bachchan, launched the World's first mobile App on 'ABC of Breast Health' at an event organised by Ushalakshmi Breast Cancer foundation at JW Marriott Hotel at Juhu. Both iOs & Android versions of the App which are available in Apple & Google Play Store for FREE download, aims to empower the nation about every aspect of Breast cancer & Benign non cancer Breast health issues in 12 Languages (English, Hindi, Marathi, Gujarati, Punjabi,Bengali, Telugu, Tamil, Kannada, Malayalam, Oriya & Assamese).
During his Chief Guest's address, Bachchan said, "I deem it a great honour to have been invited to launch the World's First Mobile App on 'ABC of Breast Health' in English and 11 other commonly spoken Indian langauges that has been conceived, designed and created by Dr Raghu Ram on behalf of Ushalakshmi Breast Cancer Foundation.
I am impressed with Dr Raghu Ram not only for all his achievements in the Medical Sphere, but also his pioneering efforts to empower people across the Country about importance of early detection of breast cancer through a number of innovative initiatives over the past decade. The opportunity to raise quality of life & Healthcare through digitalisation is on the cusp of a third wave of IT adoption.
It seems that 'now' is the time for us to go all in, on Digital strategies. Understanding what patients want from Digital Healthcare & best way to give it to them is vital and can help pave the way. I am very happy to be part of this initiative that aims to empower the Nation about various aspects of Breast Health making people better prepared to make informed decisions."
Whilst highlighting salient points relating to this Mobile App, Dr P Raghu Ram, Padma Shri awardee, CEO & Director of Ushalakshmi Breast Cancer Foundation, said, "I was inspired by Shri. Narendra Modi's Digital India campaign, which was launched by the Hon'ble Prime Minister in July 2015 a couple of months after being conferred the Padma award. Over the past one and half years,
I have been working with missionary zeal to fulfill my vision of making available this World's FIRST landmark App using Digital Media, which has been transcribed in all the commonly spoken Indian languages in simple 'easy to understand' format.
There is a specific section on 'Myths & Facts' that aims to demystify the common misconceptions relating to various Breast health issues, which would be sent on a daily basis to those who download the App. In addition, the App gives unrestricted access to all issues of PINK CONNEXION – South Asia's First quarterly Breast health Newsletter published by Ushalakshmi Breast Cancer Foundation and a couple of Breast cancer awareness films made by the Foundation."

Subscribed Failed...
Subscribed Successfully...