New-age Tamil stars fail to strike a chord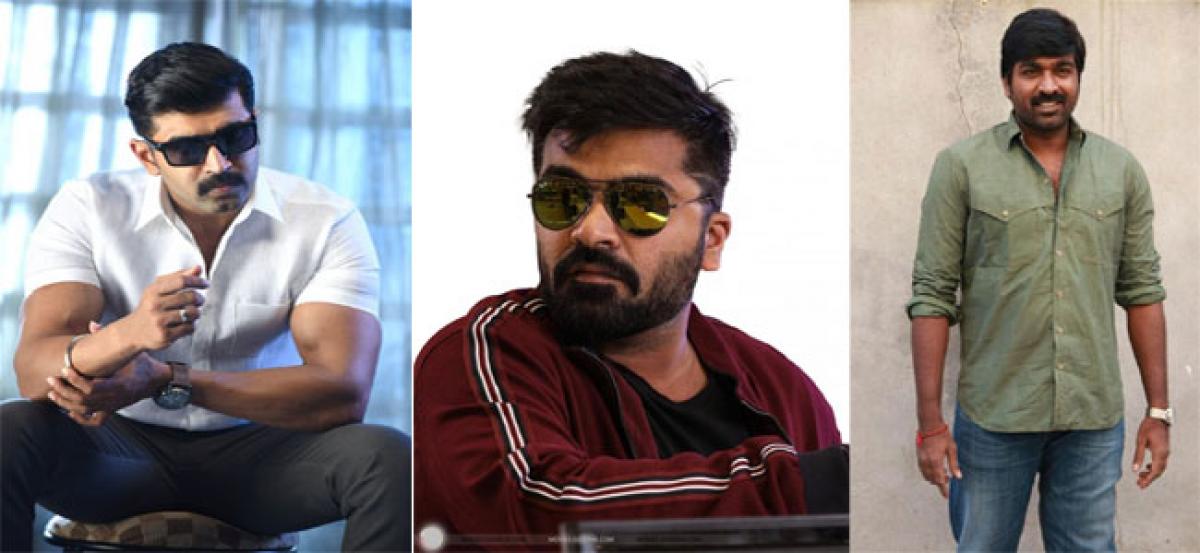 Highlights
With the muchhyped starstudded Nawab featuring big Tamil stars like Vijay Sethupathi, Simbhu and Arvind Swamy failing to draw sensational openings, it...
With the much-hyped star-studded 'Nawab' featuring big Tamil stars like Vijay Sethupathi, Simbhu and Arvind Swamy failing to draw sensational openings, it seems that Tamil stars are unable to woo the Telugu audience for the last few months. Earlier, young actor Karthi managed to redeem himself with 'Khakee' after a series of duds like 'Kashmora'.
"The market of new-age Tamil stars is fluctuating these days. So, the career of these stars had to be judged film by film, since they don't have a fixed fan following among Telugu viewers, unlike their predecessors like Rajnikanth, Kamal or Surya," says distributor Ramakrishna, who feels that Vijay Sethupathi can leave his mark with his upcoming Telugu film 'Sye Raa..' since his playing a very important role that would showcase his acting chops. "Vijay tasted success in Telugu with dubbed horror flick `Pizza' more than 6 years ago," adds Ramakrishna.

Unfortunately, Tamil star Simbhu had a dry run in the two Telugu states after blockbuster 'Manmadha' and would have hoped to make a comeback with 'Nawab' but his hopes came crashing down. "Simbhu did a fairly good job in 'Nawab' given the limitations of his role in a multi-starrer. In fact, Simbhu is more popular among Telugu viewers for his alleged affairs than box office hits," adds producer Bogavalli Prasad, who feels that Arvind Swamy gained more mileage out of 'Nawab' than the other stars. "Arvind Swamy's fire-brand performance in a dark role gave his career a new impetus. The 'Roja' and 'Bombay' star has already earned a good name as a baddy in 'Dhruva' and he is bound to get more Telugu offers," adds Prasad.
However, other new-age stars like Arun Vijay ,who played a baddy in 'Bruce Lee' and returning with the crime thriller 'Crime 23' (Kuttram in Tamil) and Aadi Pinisetty are slowly gaining ground in Telugu films. Whereas, Aadi has an edge over Arun as he is mixing up baddy roles in 'Sarrainodu' with performance-oriented roles in big ticket films like 'Ninnu Kori' and 'U Turn'.
"Aadi is doing a good balancing act by showcasing his muscles as well as histrionic skills. After cementing their positions in Kollywood, the new-age Tamil stars are trying to expand their fan base in the two Telugu states. It is high time Dhanush returns with a bang since he is going through a lean trot and also because his realistic performance has gained him lot of Telugu fans," concludes producer Bandla Ganesh.

Subscribed Failed...
Subscribed Successfully...